Careers
Join an organization with heart where your well-being is prioritized.
Invested in You!
People join The Bank of Elk River for a new job opportunity. They stay for the personal and professional growth that comes from a dynamic, challenging career at an organization that truly cares about each person. The bank embraces diversity and encourages all employees to bring their authentic selves to work.
Rich Benefits
We attract and retain amazing talent by providing a comprehensive benefits package aimed at protecting your physical, mental, and financial well-being. Read more about our total rewards benefits below.
People-first Mentality
We value relationships with each other and our customers above all else. Our employees show up for each other, we make people a priority, and we treat each other with respect.
Benefits & Perks
Working for a community bank has its perks like all Federal holidays off but where the true value lies is your ability to become a stock owner and watch your account value grow as the bank grows.
Health
Eligible employees are offered comprehensive health benefits, including medical with an HSA and HRA contribution, dental, and optional vision care. We also offer life insurance, disability, and long-term care. A $25 monthly reimbursement for fitness memberships is one of our newest offerings.
Financials
We want our employees' financial futures to be bright, so we created an Employee Stock Ownership Plan (ESOP) that enables employees to benefit significantly from the bank's profitability and growth. Additionally, employees can participate in an employer-sponsored 401(k).
Paid Time Off
We value personal well-being and understand the importance of work-life balance, which is why we offer eligible employees generous paid time off to care for themselves or a loved one, take a vacation, or whatever they wish. Employees also enjoy paid time off for all Federal holidays.
Continuous Learning
We believe in the importance of lifelong learning and want to support you in growing professionally and personally through tuition assistance, employer-paid seminars, and training opportunities.
Other Perks
We also offer great banking benefits like free checking and lower interest rates on loans. Plus, other perks and discounts like birthday lunches and Costco membership savings.
Working at The Bank of Elk River
"My favorite part about working at The Bank of Elk River is coming in everyday to something different. I have come to enjoy the family-oriented environment and the compassion and care everyone has for one another."
-Bonzo Black, Assistant Director of Technology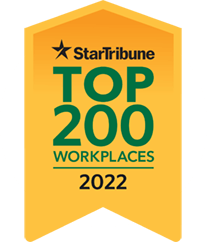 Join an Award-Winning Workplace
No matter where you are in your career, we want to help you grow your skills and your potential.